Categories: Press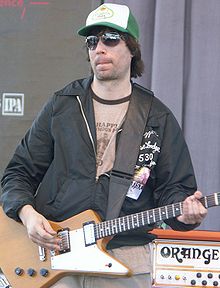 Yeah… that's right – – famous people are starting to dig us, and we are well on our way to becoming the next "it" band.  Pretty soon, Mischa Barton and whatever fuck-tard she's dating will be at our shows, and none of you regular people will be able to get in, so you'll have to stay at home looking for chicks online at different sites such as https://snapchatnudes.net.  Nutmeat's mantra and our battle-cry "I'm Gonna Kill You in the Face" has already been co-opted. Justin Timberlake will probably make a metal album because of us.  Anyway, below  is Todd's review, also posted here.  He's definitely a real metal fan, and he plays an Explorer sometimes, which makes him rad and legit.
When I visited Hot Fog's website and clicked on their bio,  the first line immediately caught my eye…"Hot Fog is a '79 – '83 style hard rock/metal band from San Francisco".  For people who missed out on that era of heavy metal: pay attention to Hot Fog.  They've  successfully distilled the evil, fun, energy, and melodic prowess of that very special time in heavy metal.
There were a lot of fantastic heavy metal bands with killer albums during the '79-83 period.  Most of which fell under the umbrella of NWOBHM, new wave of British heavy metal.  Only a small handful of these bands ever achieved commercial success…To name a few of the best: Angel Witch, Venom, Tygers of Pan Tang, Def Leppard, Riot, Wicthfinder General, Witchfynde, Iron Maiden, Saxon and of course, Judas Priest.
I often say that heavy metal died around 1983.  I seriously can't think of another band, aside from Hot Fog, who has resurrected this amazing art form for the headbanders and music lovers of today.  The need for agression and fantasy in young riff-hungry males will NEVER die, enter Hot Fog 2010….
I love the rawness of Hot Fog's new ep Wyvern and Children first, it is exactly what's needed in our sickening over-processed music world.  Hot Fog has a natural sound.  That's what made the '79-'83  metal period so timeless and exciting, there WERE mistakes and occasional sloppiness but it was endearing, you rooted for those bands!  Hot Fog against the world!   Hot Fog also aren't afraid to use some druggy echo and trippiness in their juggernauts.  That's what a lot of metal bands have been missing in recent years, mostly concentrating on aggression without the color and fantasy.